The death of a woman during pregnancy, at delivery, or soon after delivery is a tragedy for her family and for the society as a whole.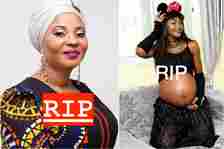 It is heartbreaking. It is devastating. It is painful and crushing and we pray it never happens to our loved ones.
These beloved Nigerian celebrities shown below sadly did not get to enjoy the birth of their babies. As you read this, please say a prayer for their families and the babies they left behind.
May their souls rest in perfect peace.
This is a list of 11 Nigerian celebrities who died during childbirth. They will never be forgotten.
MODUPE OYEKUNLE:
Nollywood actress Modupe Oyekunle died in the labour room while giving birth to her third child in Abeokuta, Ogun State. She died April 4, 2017.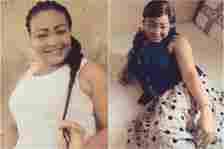 Modupe Oyekunle's colleague in the industry, Segun Ogungbe said Modupe bled for hours before she eventually passed on.
Segun said: ''I was told that after she gave birth, she kept bleeding, but they could not stop the bleeding. Unfortunately, we lost her.'
Popularly known as Oyinbo because of her complexion, Modupe gave birth to a baby girl that survived.
The late actress famously played Sandra in Segun Ogungbe's blockbuster movie Ibi Giga. She was a member of Igi Aloye caucus in Abeokuta which produced Odunlade Adekola.
She is survived by her husband, her three children and her parents.
FUNKE ABISOGUN ALHASSAN:
Nollywood actress, Funke Abisogun died four days after giving birth.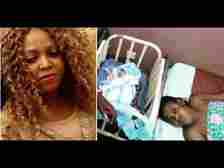 According to filmmaker Tunde Ola-Yusuf, Funke had welcomed her baby safely only to die four days after the baby was born.
Ola-Yusuf took to social media to break the news of her death saying:
"Just days ago, people celebrated with you for the delivery of Ur baby, now the Sun set at noon and U are no more…
May God look after the new born child and give Ur husband, the family, friends of the family and the industry at large the fortitude to bear the loss.
Good night Funke Abisogun, wife of my brother Taofeek Al Hassan Abisogun."
Funke Abisogun AlHassan was known for her roles in 'Olowo Silee', 'Ajofeebo', among others. She died October 2017.
MOJI OLAIYA:
Nollywood actress Moji Olaiya died in Canada May 17, 2017 barely two months after the birth of her baby.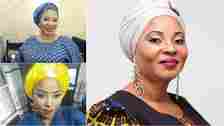 According to her family members in an interview:
'Moji's baby was born premature. Her EDD was for May 2017 but complications arose that necessitated that Moji be induced to save the baby's life as well as hers.
But since the delivery in March, Moji's health had not been exactly perfect."
On the day Moji died, around 10pm local time (3am Nigerian time) she went into a crisis. Her family member who could not hold back tears continued:
'Her blood pressure shot up and she got unconscious. An ambulance was called to transport her to the hospital. But her case worsened and she gave up the ghost before they could make it to the hospital.'
'Moji could not say goodbye to us, she didn't let us hold her baby, where will her mother start from? Her death came too early, I believe this was not ordinary. This looks like a spiritual attack.'
Moji Olaiya's infant daughter, baby Mariam Ashabi Moropeda is now two years old. See her below: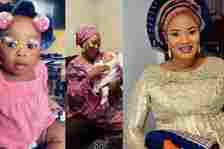 The Nollywood star Moji Olaiya was buried at the Ebony Vault burial ground in Ikoyi , Lagos.
Moji is the daughter of highlife musician Victor Olaiya.
FUNMILOLA OGUNDANA:
Funmilola Ogundana (born 26 December 1980 – Died 8 February 2013) was a Nigerian sprinter who specialized in the 100 metres.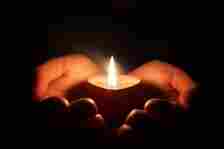 She died during childbirth in Abuja, Nigeria. She was only 33 years old.
BISI KOMOLAFE:
Bisi Komolafe (1986–2012) was a Nigerian actress, film director and producer best known for her role in the movies Igboro Ti Daru and Aramotu.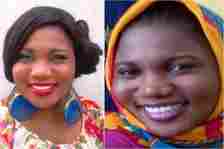 Bisi was 26-year-old when she passed away in December 31, 2012.
Medical reports confirmed that she died of pregnancy related complications at the University College Hospital, Ibadan.
Before the sad incident, the actress was on admission at the University College Hospital in Ibadan for a few days. She was said to be responding to treatment before her condition suddenly relapsed.
Although she received more than 30 units of blood at the hospital, Komolafe's health had deteriorated further before she passed on.
She was buried on January 4, 2013 in Ibadan.
CHIAMAKA GLORY DE FREITAS:
Chiamaka Glory de Freitas, who got married to her Portuguese husband, Arlindo de Freitas, in 2016, lost her life during the delivery of her first child in March 2017.
Mrs De-Freitas was said to have died as a result of postnatal complications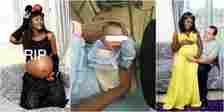 The Nigerian Senate began an investigation into the cause of Mrs Chiamaka Glory De-Freitas death after Chiamaka's husband and family submitted a petition to the upper legislative chamber.
The information was that this young lady was pregnant and was admitted to a hospital in Lagos. She was said to have attended her anti-natal at the hospital and the hospital said the lady would have to undergo a caesarian operation which her husband assented to.