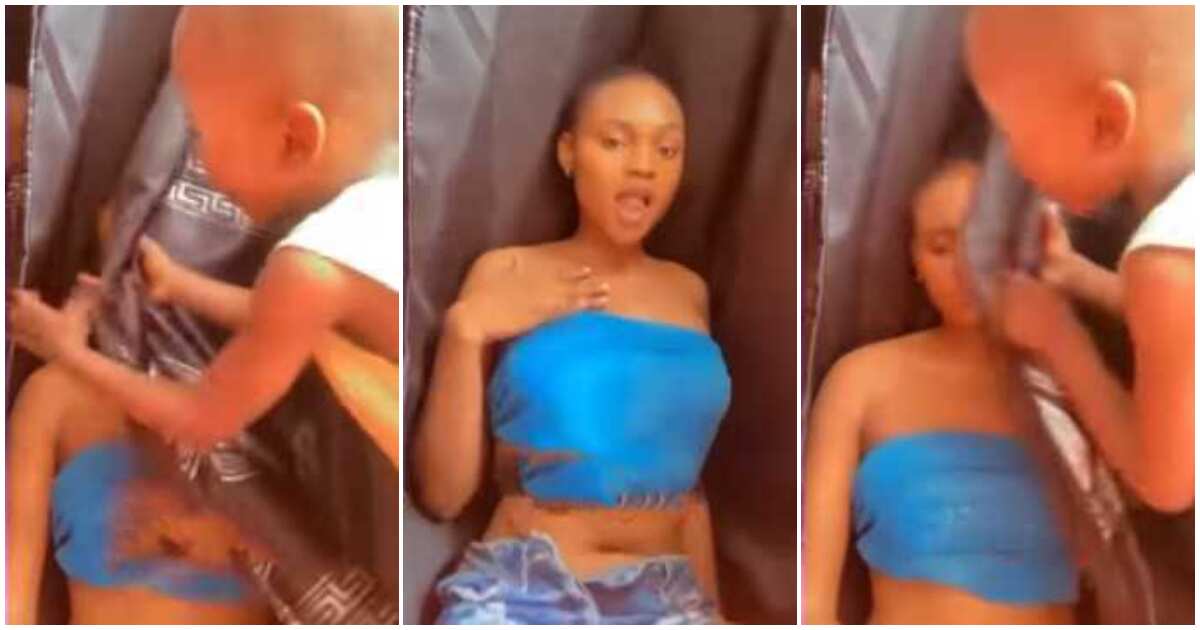 Nigerians on social media have reacted to a viral video showing a little kid correcting his sister, who was barely clad to cover up.
The young lady wore a skimpy top, leaving her belly on display and a bump short to match while she filmed herself dancing erotically as her little brother watched.
The little one, however, felt his sister's dress was wrong, so he advised her to cover herself. Rather than heeding his advice, she told him off and continued dancing.
She later insisted that the little boy leave so she could continue to record her video. Seeing that his sister wasn't ready to get dressed, he used a curtain to help her cover up.
"Cover yourself, cover yourself", he told the lady.
The video elicited reactions from netizens, especially because it emerged at a time when the type of content kids are exposed to is a trending topic online.
@castle_hairhub, "Na so e dey start ooo we still dey settle christland issue. Keep your kids away from things like this please protect their sanity please".
@iamayotomi, "Cover yourself big sis , that child na elder child".
@uyehpatience, "This is how it starts and then we will start blaming schools later. Please let's allow children to be children, allow them to pass through childhood. It's very important for them. And please concerning what happened in Christland school, Try and protect your children from Pornography. It's destroys. Most of these rich spoilt children have access to all kinds of gadgets and they learn nothing but bad things".
Watch video below,