A South African man has caused quite a stir online after proposing to his girlfriend at her father's funeral.
The woman who was sitting on the front row, just inches away from her father's casket received an unexpected surprise from her man after he went on both knees to ask her to marry him.
In a video trending on Tiktok, the man is seen kneeling down with a ring in his hands and giving a speech to his woman in the presence of her family and other mourners.
While he was yet speaking, the young woman broke down in tears, however it's unclear if she was crying because of the proposal or because of her father's death.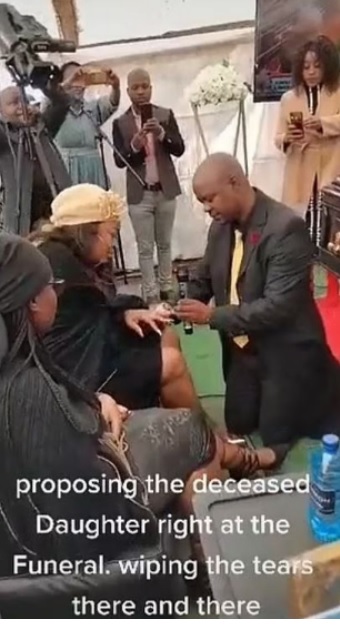 She eventually accepted his proposal, although not in plain words, and brought out her hands for him to wear the engagement ring.
The video which is currently doing numbers on Tiktok, was captioned, "Proposing to the deceased's daughter right at the funeral. Wiping the tears there and there."
Watch the proposal video below,
In other news, a Nigerian man has been forced to dissolve his marriage of one month after discovering his new wife is an 'Osu' (an outcast by Igbo tradition).
According to @_Oluchy who shared the info on Twitter, the man involved is her cousin and he dated his wife for five years without knowing that she is an Osu.
The Osu Caste System is an ancient practice in Igboland that discourages social interaction and marriage between a group of people, called Osu and free-borns (Nwadiala).
It's believed that Osus have been dedicated to the deities of Igboland and as such, considered inferior to the class of the Nwadiala people.
Taking to Twitter to relay her cousin's story, @_Oluchy advised Igbos to ask their partners questions about their ancestry so they don't end up like her cousin.