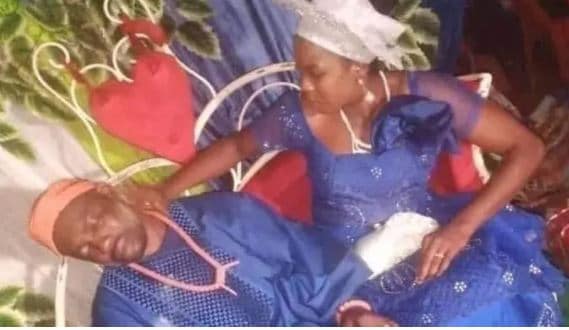 In the viral photo, a yet-to-be identified groom who reportedly slept off during his wedding ceremony was captured on camera, much to the amazement of many.
His wife-to-be was spotted making an effort to wake him up as he appeared to have gone into a deep sleep.
It is not clear what made the groom fall asleep, but some social media users have shared their thoughts on the probable cause.
Reacting to the photo, one Instagram user,@dele5767 wrote; "E de happen bros most times na highness sha my uncle and friends prostrate greeting wife's family they prayed for him they said make them stand up others stand e remain only him he no answer laimope bro Gbenga has sleep lol"
Another one@kevwe_george wrote; 'He was in d spirit. Maybe the prayer make em go on trance'
@FunmiKolz wrote; 'He's tired. Allow him sleep'
@_obiamaka_ wrote; 'Did he travel from Nasarawa to the wedding?'
@naijiriablog wrote; 'Did he not sleep the previous night?. Man go don think of bills taya come decide to reset the brain with small snooze'
mrs_jmare wrote; 'Pour he cold water jor'
thebeautywigstore wrote; 'Tired before the journey'